We are one of the few companies left who specialize in the complete restoration of antique billiards and snooker tables, bringing them back to their former glory.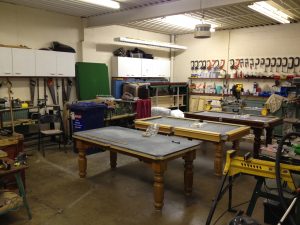 What we do:
We will collect your table and bring into our workshops
Completely strip back to the bare timber, removing the existing polishes and normally years of spray polish etc
Carry out repairs as neccesary and then sand to a fine finish ready for re-staining and polishing
Re-staining of the woodwork to the customers requirements
Re-polishing using the finest shelac polishes
Re-block and re-rubber the cushion rails to modern templates

Re-deliver, install and recover the whole table in the finest cloths, leaving ready for the next generation
All table restorations are quoted for on an individual basis.
We also undertake table relocation and storage, please contact us for further details.