A snooker table recover consists of replacing the cloth to the cushion rails and the slate bed. The re-leveling of the slate bed to the best advantage, re-filling and sanding of the slate joints as required, replacing any damaged cloth retaining strips as required and any minor repairs required to the cushion rubbers and leaving the table all ready for play.
All snooker table recovering is carried out on site. Dependent on the style and condition of the table, a full recover will take approximately 4-5 hours to complete.

Grade "A" cloths from Hainsworth's and Strachan's West of England.

Non-Conforming / 2nd's cloths available at discounted prices, subject to availability.

Discounts available for multiple tables.

Fitted by our in house, experienced, time served table

technicians. We do not use sub-contractors.

Free inspections/quotations available within our operational area.
For enquiries and quotations please email or telephone 01733 562822
We stock cloth from the two leading manufacturers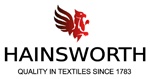 Hainsworth's and Strachan-West of England.
Click on the logo's for more information on there products
---
We Also Offer:
---